An unparalleled ebike that's great in the city, and anywhere you'll take it.
       When the places that you go are exciting and adventurous, you need a bike that can handle any terrain and keep up with you. You need your things, so there is cargo space, you go a long way, so the battery has your back, and sometimes you need pedal support, so the brushless motor of the SAMEBIKE RS-A01 pushes you forward. It's a durable, yet lightweight design that looks good doing it.
      This is an electric bike that is designed to zip you around the city bike lanes, or those open roads, with an eco-friendly and cost-effective mode of transportation. This e-bike comes equipped with a powerful motor and long-lasting battery, making it an efficient and reliable option for both urban and suburban environments. With so many all-weather features packed into one bike, you will have to start saying yes to more events even when the weather is bad. This is because you'll have a reliable SAMEBIKE to get you anywhere you want to go, safely and with ease. By using an electric bike, you can avoid the stress and expense of driving a car while enjoying the benefits of exercise of being an ebike owner.
        The RS-A01 comes with a 750W motor and a 672Wh battery built in, allowing it to reach speeds of up to 20mph and travel up to 62 miles on a single charge. The bike is equipped with a 7-speed transmission system, with 5 levels of pedal assist. This powerful setup provides smooth shifting, and brings your riding to new levels. With traditional bikes, the struggle of getting to your destination, whether it be a meeting for work or friends, is so real. With this ebike's robust motor and range, every pedal is powerful. Rest assured that you will be able to stop the bike quickly and safely after gaining speed, with the mechanical disc rotors. The SAMEBIKE RSA01 also features a comfortable and ergonomic seat, as well as adjustable handlebars, ensuring a comfortable ride for all users between the heights of 5'3" to 6'3".
       For city dwellers, this bike is an excellent option for commuting and running errands. Its compact size and maneuverability make it easy to navigate through busy streets and crowded bike lanes. Navigating tricky crowds in the city becomes effortless with the low speed Push to Walk setting, when you hop off. Riders can avoid traffic congestion and parking problems, and arrive at their destination feeling refreshed and energized. In addition, the RSA01 comes equipped with a custom display & multi-function controller, with a panel that is easy to view in both bright and dark conditions. With the USB-A port under the display, you can even use the bike's large battery (and your pedal power) to charge your phone while you ride!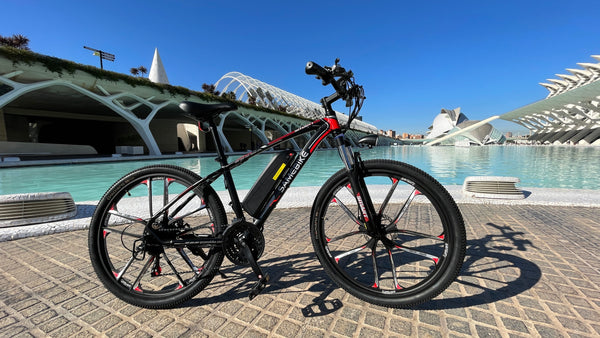 Commuting with an electric bike has numerous benefits, including environmental and health benefits. By using an e-bike instead of a car, riders can significantly reduce their carbon footprint and contribute to a cleaner and greener planet. Additionally, cycling is a great form of exercise that can help riders stay active and healthy. With the SAMEBIKE RSA01, users can enjoy a smooth and comfortable ride that requires minimal effort, making it a practical and enjoyable option for daily commuting. The center of the frame has a locking cylinder batter that makes changing or fixing your power source super simple, yet durable and safe.
     The SAMEBIKE RSA01 comes equipped with a variety of features that make it an ebike option for all-weather conditions, and any road on your journey. With the Shimano 7-speed  shifter, and 5 speed pedal assist, you will be able to get anywhere in no time and with ease. The custom LCD display provides riders with real-time information on speed, battery life, and distance traveled. The bike's front lights ensure you see where you're steering, even in low-light conditions. The RSA01 also comes with a durable and lightweight step-through frame made from high quality aluminum. making it easy to carry and transport when needed. The 750W Motor provides the full speed to get through intersections safely,  and the sustained speed to have a great time while you ride.
    The tires feature 26 inches of diameter, and an all weather smooth ride, even in rain/snow. Overall, the SAMEBIKE RSA01 is a high-performance and reliable electric bike that offers a comfortable and enjoyable riding experience. CHAOYANG has been providing quality tires since 1958, and most definitely delivers on that product with this bike. Having sturdy tires is a must for a commuter bike. Especially with the bike lanes in cities having all kinds of surprises.
    One of the most important features to consider when buying an electric bike, is its battery life and charging time. With the SAMEBIKE RSA01, riders can enjoy a long-lasting battery that can travel up to 62 miles on a single charge. The bike's 672Wh battery can be fully charged in just 5-6 hours, making it a practical option for daily use. The bike also features a convenient USB-A charging port, allowing users to charge their phone or other electronic devices while on the go.
      When you go out of your house, you want to know that your mode of transportation is reliable. Hopping on the SAMEBIKE RS-A01 makes that feeling second-nature. Bringing you and your favorite places even closer together. With added mobility, you will have to start thinking of new adventures to go on! The only thing between you and the places you go every day, is your will to get up and go. This commuter, city ebike, makes that feeling within reach. With space in the cargo racks, and provided basket, the RS-A01 lives in the practical and convenient space at the same time.
      The list of modern features that get you where you're going, and minimalist styling, make for a great combination. Safety, reliability, and durability bring this bike to the top of my list. One visit to their website will have you going through every specification, and clicking add to cart in amazement. Be sure to visit samebikeus.com to check out the RS-A01 for yourself, and see even more details than I mentioned here today.
---