Tips To Follow When Riding E-Bikes Along The Beach In The Summer
Winter may be a pleasant time for holidays and carnivals. But the snowy trails certainly throw some challenges towards the bikers. However, some cyclists accept this challenge and they put their biking skills to the test. Even some bikers love spring, fall, and summer seasons.
Not all countries in the world feel the warmth of summer. The bikers who live in warm countries often start their biking journey in the summertime. Their hobby list starts with - riding a bike on the beach. These cyclists are truly fortunate and they really enjoy their bike rides.
The sea has a certain smell and the water reflects the beaming sun. Apart from that the cool breeze on the face makes beach bike riding a pleasant journey. Bikers often take their e-bikes to the beach for swimming, surfing, and for soaking in the sun. But electric beach bike riding comes with many challenges. Many riders ignore these challenges and they face problems when riding their bikes. Below you will find 5 smart tips when riding on the beaches. Just follow the tips and enjoy a seamless e-bike ride on the beaches.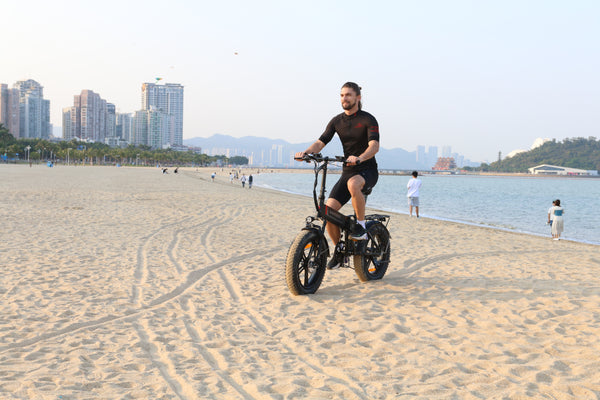 1) Learn How To Adjust The Tire Pressure
Sand is a soft surface. Therefore, it could be really difficult for you to ride on the beaches. Moreover, wet sand may not support your bike's tires. As a result, you would feel an inconsistency when riding on the beaches.
So, the first tip is to reduce your e-bike's tire pressure. When you reduce the tire pressure of your bike, the tires find more surface areas. Naturally, your bike doesn't lose its control easily. Surface contact is an important thing. Bikers often ignore it and they face odd challenges. Hard surfaces need good tire pressure. But soft surfaces like sand don't need too much tire pressure. So, you should adjust tire pressure when riding on the beach.
2) Don't Stop Pedaling
An e-biker who is new to the beaches may not be comfortable. It's because the sand will engulf an e-bike's speed. Surface friction - is one of the major factors that determine the speed of your e-bike.
A hard and even surface may not have too much surface friction. But sand has a high amount of friction. Your e-bike's tire would sink in the sand and you need consistent force to keep it running. That's why you should never stop pedaling. On the beaches, you can't enjoy the momentum of your bike. So, you should take advantages of the pedal-assist system of your e-bike. Non-stop pedaling is the only way to keep your bike moving without losing your balance on the beach.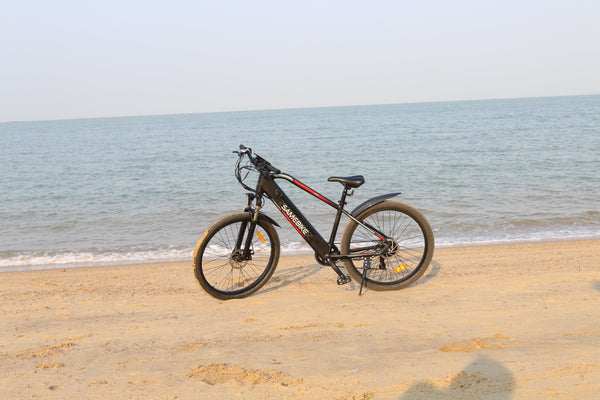 3) Keep Your Bike Clean After The Ride
Usually, you ride on the roads and dust sticks on your e-bike. But dust is not so harmful to your bike. So, you may not have to invest long hours to clean your bike.
On the other hand, if you ride on the beaches, your e-bike comes in contact with sand. Apart from that, you may go close to the sea. In that case, salt and water can also enter your bike. Now the problem is salt and sand can damage your e-bike. Hence, you should clean your bike immediately after finishing your ride on the beach.
You should clean your e-bike with clean water. You should not use pressure washers as high water pressure can damage your e-bike. After washing your bike, you should use dry clothes for keeping your bike dry.
4) Lubricate Your E-Bike's Chain
After cleaning your bike, you need to lubricate your bike's chain. An e-bike's chain is the most important part. If this chain jams, then your entire bike won't function properly.
Some bikers think, only washing a bike is enough to maintain it. But they forget that the chain needs proper lubrication. Hence, after washing your bike's chain, you should lubricate it.
Sand and salt can damage the chain of your bike. You should find the right lubricant for your e-bike and you should apply it. It may not be an easy task to find the right lubricant for your e-bike. But, you can search the internet or you can ask the experts. However, you should always lubricate your e-bike's chain after returning from your e-bike beach ride.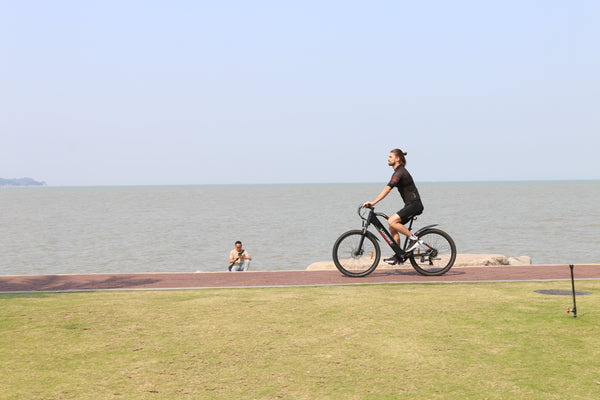 5) Don't Forget To Maintain Your E-bike
Riding on the beach on your e-bike is fun. But you should not forget to maintain your bike. Usually, you should wash or clean your e-bike every week. But when you ride your e-bike on the beaches, your e-bike needs special care.
The salt and sand can not only damage the structure of your bike, but they can also enter the power transmission system. Your e-bike has a motor, battery, and many electronic parts. That's why you should clean your bike paying extra attention.
You can clean your bike at home. But you should also visit a professional who can clean your bike precisely. The accumulation of sand and salt inside your bike is not a good sign. Therefore, remove all the dust particles, sand, and salt from your e-bike and keep it young. Occasional maintenance of your e-bike can help your bike to fight sudden problems.
Conclusion
To conclude, it can be said that riding on the beaches under the clear sky in the summer is certainly memorable. You can ride your bike for hours. E-bikes have powerful motors. So, you don't have to put in too much physical effort. However, your bike faces water, salt, and sand. So, you should follow the above 5 tips when you have a plan to ride ebike on beach.
The beach is not a smooth and hard surface. Hence, adjust your e-bike's tire pressure. Keeping your bike's chain lubricated would help you to have a smooth ride. You should not stop pedaling on the beach even if you have a little momentum. Apart from that cleaning, washing, and maintaining your bike occasionally should also be on your list. Thus, you can keep your e-bike healthy and you can enjoy your beach bike rides without taking any breaks.
---
1 comment
---
---